Monday, July 31, 2006
Holy Shit, 12 Weeks to the Marathon
Only 12 weeks to go before the marathon.
Holy shit, holy shit, holy shit!
And I am nowhere near ready.
I'm getting better, more disciplined, but I'm still not making all of my miles each week. I've got to seriously start putting foot to pavement, heat or not.
Look for me for me to be sweating (and perhaps limping) a bit more in the weeks ahead.
In other news...
Manh Le surprised me yesterday by stopping by with his friend Daniel and inviting me out to
New Chinatown
, conviently located just a few blocks from me. I'm hoping this begins a pattern of all my asian friends coming around to teach me about all the wonderful food in my area.
Here I am enjoying a pork chop over rice. It was the best rice plate I've had in the U.S., bar none!
The only downside to Manh's surprise invitation was that I had been looking forward to cooking dinner that night. In my two weeks on Argyle Street I have not yet prepared a meal in my own kitchen. This situation is partially due to my own laziness and partially to inexpensive and delicious local offerings, such as Ba Le Sandwich Shop, Pho Hoa (and many, many similar noodle joints), and Sun Wah (the most amazing pork in the known universe). The local joke on my block is that it's often much cheaper to eat out in my neighborhood than to cook one's own food.
Fortunately I have discovered the
Broadway Supermarket
, one of Argyle/Broadway's best kept secrets. Hidden next to an overpriced laundromat and a bad pizza place, this gigantic asian grocery store sells every sauce, vegetable, or cooking implement you could possibly need. I walked out of there with a basket full of groceries and a set of knives for around $50. Gotta love 90 cent tofu.
So tonight I will be cooking my own dinner.
Then I'm going out for a run.
Thursday, July 27, 2006
Run with me
My life never does quite seem simple or predictable. But at least now that I'm mostly settled in to my new home I can at last develop something of a running routine.
Here I am after completing a 4.6 mile run last night from home to North Avenue Beach.
My tentative weekly running schedule:
Monday
: Day Off (or makeup day)
Tuesday
: "Gumballhead Runners"
- meet downtown around 6:30PM
- distance: 4-6 miles
- pace: individual paces 8:30-11:00/mile
- beer intervals: Twisted Spoke rooftop (Grand & Ogden)
Wednesday
:&nbsp: medium run: 4-8 miles
Thursday
: Cross-Training (or Wednesday makeup)
Friday
:&nbsp: short run: 2-4 miles
Saturday
: CARA Marathon Training Program, group run
Sunday
: recovery run: 2-4 miles, slow paced
Would anyone care to join me for my Wednesday evening, Friday evening, or Sunday runs? I typically run along the lakefront, but am willing to travel short distances within the city. I could always use the company. (I typically run at a pace of 9:30-10:00, but I'm willing to go as slow as 12:00/mile.)
If interested, post a comment.
(By the way, the Tuesday night "Gumballhead Running Group" is also accepting new members who meet our strict requirements: ability to run 5 miles, argue about beer, and tolerate spicy food.)
See you out on the path.
Monday, July 24, 2006
Argyle Street 60640
I just realized that it's been a while since I last posted to my blog. So here's an update.
It's been a little more than a week since I moved to Argyle Street. The apartment is smaller than the one I wanted, but the rent is cheper and it's still a terrific building.
And what a location! From the aroma of phở that hits you when you get off the train to the extreme friendliness of the locals, I just can't say enough good things about my neighborhood. But I'll give it a try:
Thai grocery store

Vietnamese sandwiches and other yummies from Ba Le Sandwich Shop

1 block to Red Line

2-4 blocks to over a dozen fun bars

also nearby: Jewish deli, Lebanese grocery, tapas bar

convenient to Lakefront Path, so I don't have an excuse anymroe to skip runs

Annoyance Theatre and (for what it's worth) Too Much Light Makes the Baby Stand in Line

Everyone loves dogs!

And, yeah, I guess I have to mention the Hopleaf, the bar I love to hate to love

Did I mention phở?
My apartment is still a mess as I struggle to unpack into a very small space, but I'm making progress. Just yesterday I went out and purchased various glassware for my wine bar. By tonight I hope to setup my TV/stereo and put my computer together (assuming my new desk and monitor arrive).
Sadie is adjusting well to the new routine and seems to like the new apartment. She get a little lonely when I'm gone so I try to make it up to her with extra attention when I get home from work. We take long walks together 4 times a day, and she already has her favorite places to sniff and pee. Unlike in South Shore, no one around here is afraid of pugs.
Getting settled in has helped me restart my marathon training. Last Thursday I hit the road hard with 6 miles. Saturday I pulled off 10 miles, though my unprepared knees still feel a bit like jelly. Last night Jay and I did a 3 mile recovery run. Then we did beer intervals.
...
I'm having trouble wrapping up this blog post because I keep getting interrupted by work. How dare these people actually expect me to be productive. On a Monday morning. I don't think so.
Friday, July 14, 2006
Harold Chicken and 100 Days to Go
Waiting for my last meal in South Shore: take-out from Harold's Fried Chicken. Moving to new neighborhood tomorrow. Meanwhile, 100 days to the marathon! Haven't run much lately, but that is about to change.
Monday, July 10, 2006
Josh's Brush With Death and Apartment Rental
This is an expanded version of a post I started on Sunday morning, but was not able to finish. Appologies to anyone whose comments got deleted.
Well, it's Monday morning and I think I'm finaly ready to blog about this past weekend. I tried typing something yesterday morning, but was too weak to finish a paragraph.
The weekend started out with every indication of being a fun time. I started my Saturday morning with a bike ride up to Lakeview to drink bloody marys with my good friend
Jeanne
. While we were hanging out at the
Avenue Tavern
I got a phone call from my future landlord, telling me that he had made a mistake and already rented out the apartment he promised me.
To say I was angry, as tomato juice vodka and horseradish shot out through my nose, would be an understatement. I felt ready to flip up the table and rampage through the bar, destroying everything.
(The Avenue is just the kind of bar just waiting for someone to rampage through.) &nbsp
But I kept my cool through the rest of the conversation while I considered:
I hadn't found any other apartments I liked so far


The best Apt. People could come up with was a Rogers Park craphole with broken windows.
The Apartment People suck.


I had cancelled my appointment with Apt. Finders already

(They have a 2+ week waiting list for appointments)


I had stopped trying to find an apartment on my own (Reader, Craig's List, walking around, etc.) several days previous when I had been promised the 1BR that I had just lost. Now it was too late to start hunting again.


No one else will rent to me in my price range, mid-month, with a dog


I have movers already scheduled for 7/15


Sleeping out on the street wont be so bad, at least during the summertime
Not knowing what else to do, I had another drink. I resisted the urge to have a third, but I was already flying because I drank that first bloody mary on an empty stomach.
After finishing my second drink and lousy buffalo chicken sandwich (Avenue is only good at one thing: bloody marys) I raced back to Jeanne's house and called Apt. Finders, begging and pleading with them on the phone to sneak me in. The guy on the phone finaly relented and sympatheticly gave me an appointment slot for 30 minutes later.
Halfway between Jeanne's house and Apt. Finders was DSW shoes. Jeanne had been teasing me about the shoes I was wearing that day, so I went into the store and walked out 6 minutes later with a nice, expensive pair of sandals.
Angry, drunken shoe shopping is fun.
Apartment Finders was a sad experience. They even took me to the same Rogers Park craphole with the broken windows that Apartment People had shown me.
Later that day, I came down with the stomach flu.
I started feeling the effects shortly before Justyna and I sat down at
Hamburger Mary's
, a joint I can only categorize as "
gay hillbilly
." The slowest table service I've ever experienced in the United States could only come at a moment when I was increasingly unable to tolerate the very idea of food, or people, or anything at all.
I got home that evening and spent all night in a painful, cold sweat. The 10' distance to the bathroom always seemed too far, as it was difficult to remain conscious for the entire journey. I ate nothing that night, or the next morning.
I woke up on Sunday and briefly entertained the idea of going through with my weekly long run. The very act of getting out of bed convinced me that wasn't going to happen. But I was still determined to leave the house that morning; I could at least help Justyna with her apartment and perhaps even find one of my own.
I got to Justyna's new place but ended up being of very little assistance. Every effort I made to be helpful was followed by at least an hour sitting down catching my breath.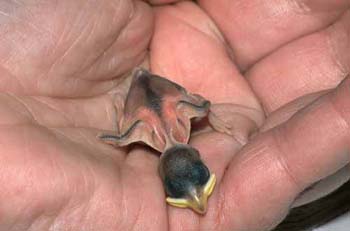 The only major contribution I made to Justyna's housekeeping was to help her rescue a baby bird that had fallen from it's nest.
Later that afternoon I spoke on the phone with the same landlord who had given away the 1BR he promised me. He had wanted me to come by and look at a studio that day, but I wanted to put him off for a day while I still tried to find a a bigger place elsewhere. So I told him I had the stomach flu. His response was, "Oh, yeah, I had that last week, it was awful."
So, this dude not only gave away my apartment, he also gave me the stomach flu!
I would kill him, but I can't because he's probably going to be my landlord. I'm almost certainly going to rent that studio after all. It's a great building in a great location, and it wont hurt to save money.
So that's where we leave things. I'm way behind in my running, I'm getting over the stomach flu, and I'm probably moving into a studio.
Unless anything else goes wrong.