Wednesday, July 25, 2007
Thought I Had Seen It All
After three decades riding the CTA (many of those years during very odd hours) I thought I had seen it all.
But the strangest was yet to come...
Check out the naked dudes between cars on the Red Line that I saw on my way to work yesterday! They stood between cars, shirtless, wearing only shorts, singing merrily (and shivering) the entire trip downtown.
I took this photo when I got off the train at Lake Street at 4:30AM.
They
were surprised to see me take this photo--like what they were doing was completely normal.
I love this town.
Friday, July 20, 2007
All Good Things..
Before I make my announcement, a couple of quick updates:
I'm back on running again, after a week off to allow my various lower left tendons to heal. The tendons are completely better now (though I still have a sore ankle) but getting back into running is difficult, and it was tough to even run two miles last night. It's amazing how much you lose after a week off.


Sorry to those of you still waiting for my post about the Wisconsin Beer Roadtrip II. I've been too busy to write it.
And that sort of brings me to my announcement..
After more than 300 posts going back 2 1/2 years, I've decided to retire this blog, Full Metal Lunchbox.
A few months ago a good friend of mine (I can't say whom, but hint: she's the one who first suggested I start a blog) told me that she stopped posting to her blog because she "got bored of it." I didn't understand at first, but I think I get it now.
Yeah, I'm bored with this, and ready to move on to something else.
And recent events in my life have shown me in stark relief just how incredibly artificial the blogging world is. For me, the question is relevant: why broadcast to strangers when I should be connecting to real people around me?
(I can think of a few bloggers who are shaking their heads at that last paragraph. Hey, if it works for you, more power to ya.)
And finally, there are a few regular readers who should have no part of my life whatsoever. You know who you are. (Don't think I don't see you, just because you've never left a comment.)
This photo isn't supposed to represent anyone in particular, but I just had to include it.
So, that's that.
I don't have a date for my final post, but it will likely be sometime between the Chicago Marathon and the end of the year. Or it could be sooner.
A very small number of you will receive invitations to keep up with my goings on via a private blog. To the rest of you, in case I forget to say later, thanks for participating.
Please feel free to call or e-mail me anytime. All of you (with very limited exception) are welcome to be a part of my life.
Monday, July 16, 2007
Time off from Running and Blog Posting
I've been taking a few days off from both running and blog posting. Nothing wrong, just need a short break.
I'll try to post something later this week, including perhaps photos from the big Wisconsin Beer Roadtrip II.
In the meantime, if you are looking for online reading material, check out some of the many fine blogs linked to in my left margin. Many of them are about running and a few of them even mention drinking and computers.
Today I'm decompressing. Thanks for stopping by.
Thursday, July 12, 2007
DNS, Oh my tendon
My ankle, never fully recovered since GMR, is still acting up and for the past few days I've experienced problems with the tendons connected to my hamstrings. Given the risk of further injury later in the training season, I've decided to hedge my bets and lay off running for a few days.
Unfortunately, that means I was DNS for tonight's Niketown Bastille Day 5K -- a race I had been waiting for since last year when I was also DNS (that time because Justyna forgot her shoes and borrowed mine).
It also means I wont get to run Lake Monona this weekend with
Shea
But that's probably OK, since I'll likely be in no shape due to the big Wisconsin Beer Roadtrip. Details on my coming adventures driving a dozen of my friends to the cheese state for all kinds of mayhem will be posted here after the weekend.
Tomorrow I have the day off, and I head off on my big van adventure on Saturday morning.
Lord have mercy on us all.
Saturday, July 07, 2007
Boring Saturday Blog Post
This will be boring post. Every now and then I have to do this, lest you think my life is all about running, drinking, and having fun. Well that's certainly not the case.
Last night (hold the excitement campers) I worked from home on a systems migration from 11:30PM to 3:00AM. I did thrilling UNIX chores like "stopping the cron job," and "restarting the load manager." When it was all over I faced the dilema about whether or not to go to bed and get up again at 4:30AM to go on my 12 mile long run. I really wanted to go, but I felt the sniffles from my still lingering cold from last week.
So I chose to be lazy.
Sleeping in with
Denise
under the big air conditioner was pure heaven. But eventually I felt guilty and went to the gym (first time in two months!) for a long, slow workout.
aerobic
: 25 minutes of hill repeats and speed intervals on the treadmill
upper body
: chest and shoulder presses, curls, reverse curls
mid-body
: crunches baby crunches!
lower body
: lunges (20 pound dumbells)
I've been exchanging text messages with Denise's sister, who inexplicably is driving in from Minnesota for the weekend. She's stuck in traffic, which wouldn't have happened if she were to have bought a plane ticket. The plan is to meetup for lunch at
the Red Apple
, but I have a feeling will morph into a late-afternoon snack.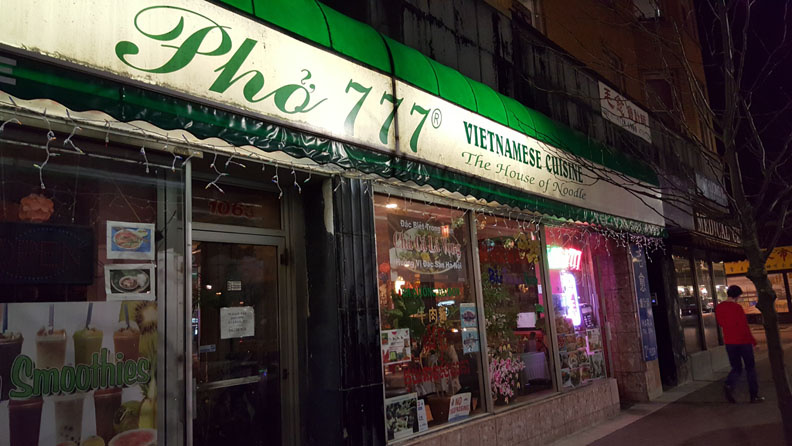 For dinner, I'm considering celebrating 7/7/7 by taking Denise to--where else--
777
. That is, if every other superstitious yahoo in town doesn't have the same idea.
Tomorrow we're going to the Sox-Twins game, which promises to be the most boring highlight of my weekend. Neither team really knows how to catch a baseball. I expect it will be like going to some kid's t-ball game, but without the amusing homicidal parents.
I might even attempt to makeup my 12 miler tomorrow morning. But that would run the risk of making this weekend too interesting. And we can't have that, now can we?!